The Boston & Albany yard along Boylston Street in Boston's Back Bay, on October 4, 1912. Image courtesy of the City of Boston Archives.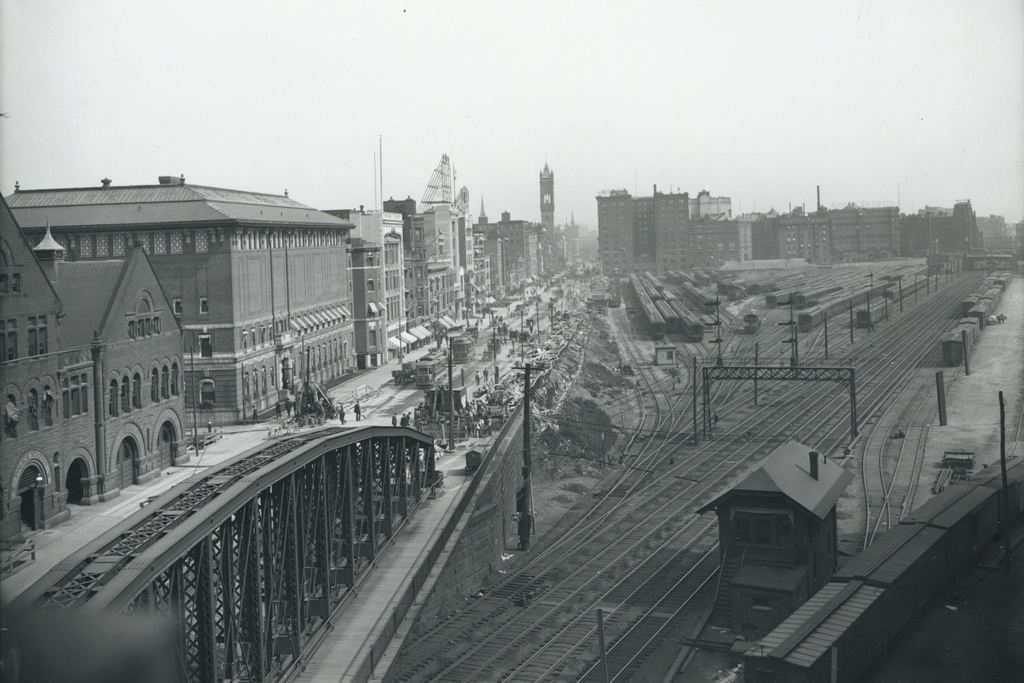 The view in 2015: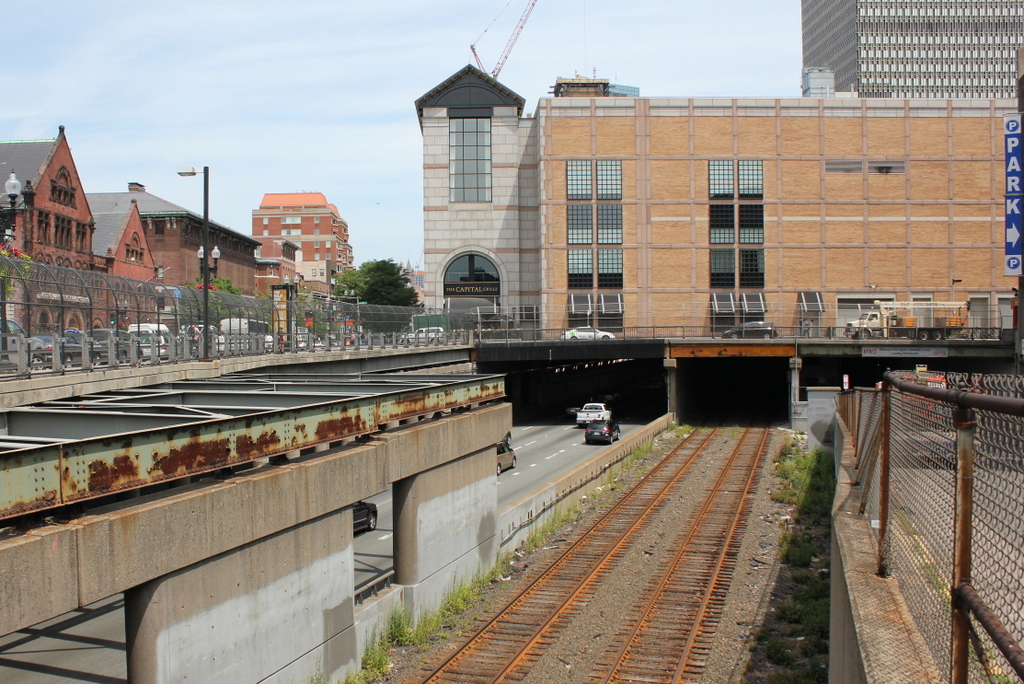 The Boston & Albany Railroad maintained a rail yard on this site in the Back Bay for many years, but as the city continued to grow around it in the 20th century, it began to be eyed for potential redevelopment.  The yard took up most of the triangular-shaped area between Boylston Street, Huntington Avenue, and Dalton Street, which included the entire south side of Boylston Street west of Exeter Street, as seen in the 1912 photo.  The first photo shows some familiar landmarks on the left, including the firehouse on the far left, the Tennis and Racquet Club, and in the distance the tower of the New Old South Church.  All three are still standing today, but the view to the right has changed significantly.
By the early 1960s, there were several different options for redeveloping the rail yard.  In 1957, the Massachusetts Turnpike had been completed from the New York border to Route 128 in Weston, just outside Boston.  From there, however, it was uncertain which route the highway would take into the city. One option was to build it parallel to the right-of-way of the Boston & Albany Railroad, which would have included passing through this yard.
One of the problems with running the highway through here, though, came when the Prudential Life Insurance Company purchased the yard, with the intent of building a large complex that would include the tallest skyscraper in the city.  Such a plan would be a great economic benefit to the city, but it threatened the highway that would also serve the economic interests of the city.
In the end, both proposals went through, and the Massachusetts Turnpike was completed through here in 1965, a year after the Prudential Tower was completed directly above it.  Today, as seen in the 2015 photo, the highway runs parallel to the railroad, and they both pass under the Prudential complex and the Hynes Convention Center, which can be seen in the foreground. In the distance to the right is the lower part of the Prudential Tower, which 51 years after its construction is still the second-tallest building in the city.