The house at 102 School Street in Springfield, around 1938-1939. Image courtesy of the Springfield Preservation Trust.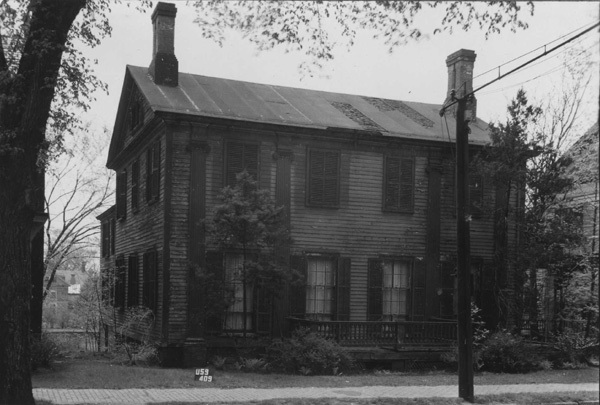 The scene in 2018: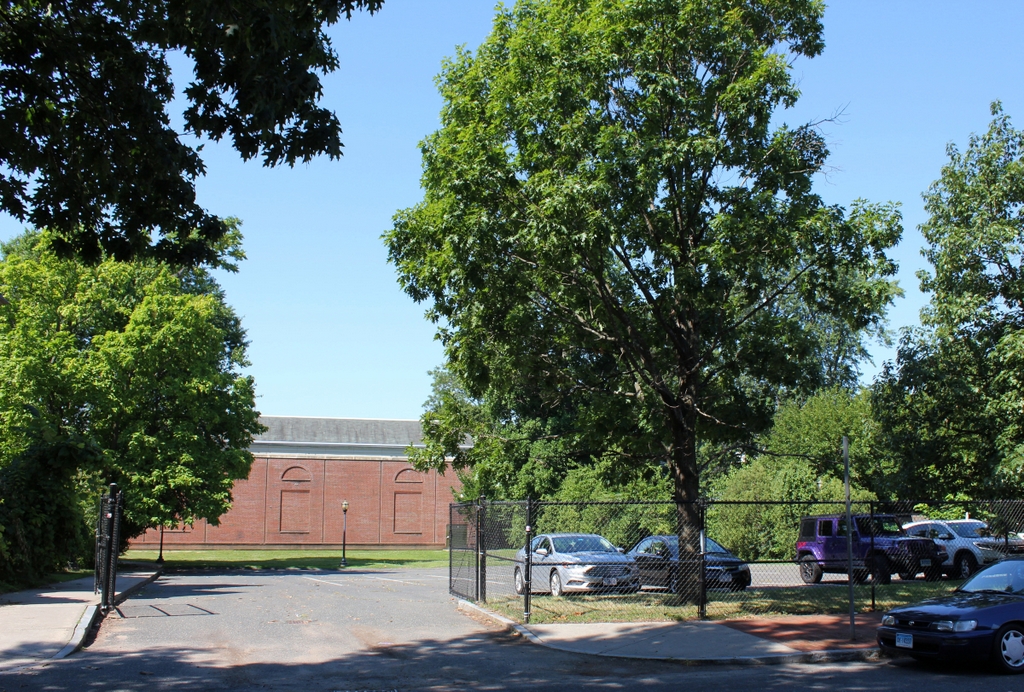 Like the neighboring house at 100 School Street, this house was originally located on the east side of Maple Street. It was constructed in 1820, and like its neighbor it was built by Simon Sanborn, a master builder who was responsible for many fine homes in early 19th century Springfield. Architecturally, these two homes do not have much in common, but this house bore a strong resemblance to one that once stood at 55 Chestnut Street, which may have also been built by Sanborn.
The original owner of the house here in the first photo was Benjamin Day, a prosperous merchant and banker. In 1820, at the age of 30, he married Frances Dwight, the daughter of merchant James Scutt Dwight. The house was completed around the same time as their marriage, and it was situated on a large lot that extended from Maple to School Streets. At the time, the lower part of Maple Street was one of the most desirable residential areas in the city, and the Days were among the many affluent families that built homes on the street, which runs along a bluff overlooking downtown Springfield.
Benjamin Day went on to have a successful business career, which included serving first as cashier and later as president of the Springfield Bank. In 1822, he became a partner in the merchant firm of Day, Brewer & Dwight, which included his brother-in-law, James Sanford Dwight. Day and Brewer would eventually sell their shares of the business to Dwight, and Day subsequently formed the dry goods firm of Day & Willard. He was also involved in other business ventures, serving as a trustee of the Springfield Institution for Savings, president of the Old Springfield Bridge Company, treasurer of the Holyoke Water Power Company.
Both Benjamin and Frances Day died in 1872, but they apparently lived here in this house for a comparatively short period of time. By the early 1830s, this property was owned by Frances's brother, George Dwight. Following his brother James Sanford Dwight's untimely death in 1831, George and his business partner, Homer Foot, had acquired James's company, which was renamed Homer Foot & Co. In 1833, George married Homer's sister, Mary Skinner Foot, and the family connection was further strengthened a year later, when Homer married George's sister, Delia Dwight.
George and Mary Dwight lived in this house on Maple Street until around 1860. He remained a partner in Homer Foot & Co. until 1854, and he was also involved in the Springfield Gas Light Company, serving as treasurer for many years, and later as superintendent. Aside from business, his other roles included serving as fire chief in 1848, and from 1856 to 1859, and he was elected to the state House of Representatives once and the state Senate twice. However, perhaps his most important position was as superintendent of the Springfield Armory, which he held during the early months of the Civil War, from April to August 1861, before the Armory switched from civilian to military leadership.
By the late 1860s, this house – which was still located on Maple Street at the time – was owned by Willis Phelps, a railroad contractor who was responsible for building many railroads, both here in New England and in other parts of the country. He had been a contractor for the Western Railroad in 1839, and his subsequent projects included the rail line from Springfield to Hartford, portions of the New London Northern Railroad, and the branch line from Springfield to Athol. Further west, he built the Council Bluffs & St. Joseph Railroad, the Missouri Valley Railroad, and the Terre Haute & Alton Railroad, among other lines.
In addition to his railroad work, Phelps was involved in local politics, serving at various times as a county commissioner, state representative, state senator, city councilor, and alderman. He was also a director of the Springfield Fire and Marine Insurance Company, the Mutual Fire Assurance Company of Springfield, and the Pynchon National Bank, and he was the president of the Springfield Five Cents Savings Bank from 1854 to 1858.
Willis Phelps died in 1883, and his property was subsequently acquired by Eunice Brewer Smith, whose brother, James D. Brewer, owned the adjacent house at 95 Maple Street. She was the widow of Dr. David P. Smith, a local physician who had died in 1880. He had been a surgeon during the Civil War, including serving as chief surgeon at the Fairfax Seminary Hospital in Alexandria, and he later became a professor of surgery at Yale.
After Eunice's brother James died in 1886, his daughter Harriet inherited his property. She and her husband, Dr. Luke Corcoran, soon began building a new house, and in 1889 they moved the old house to the back of the lot, where it became 100 School Street. At around the same time, Eunice did the same thing to her house. It was moved to 102 School Street, as shown in the first photo, and it sat side-by-side with its longtime neighbor. Eunice then constructed a new house on the Maple Street end of the lot, which was completed in 1890.
In a way, the relocation of these two houses reflected the changes that Springfield had undergone in the 70 years since they were built. At the time of their completion, they were among the finest homes in a town that still numbered under 4,000 people. However, by 1890 Springfield had become a city, and its population had grown more than tenfold, to over 44,000 people. The old merchant families that once lived in these homes, such as the Days, Dwights, Brewers, and Howards, no longer dominated the city's political and economic life, and their homes had become relics of a distant era, replaced by new, larger homes and relegated to a side street.
By the end of the 19th century, Eunice Smith still lived in her new house at 111 Maple Street, but she had evidently transferred ownership of 102 School Street to her niece Harriet, who owned both it and 100 School Street. Both houses became rental properties, and for many years she rented this house at 102 School Street to Charles E. Stickney, a fire insurance agent in the firm of Pynchon & Stickney. He was living here as early as 1890, shortly after the house was relocated here, and he remained here until around 1908. The 1900 census shows him at this house with his wife Mary and their two children, and they also employed two live-in servants.
Starting around 1909, Harriet Corcoran began renting the house to Ralph K. Safford, a banker and broker who was the manager of Darr & Moore. He and his wife Lillian had an infant son when they moved in, and the 1910 census also shows them living here with two servants. They would reside here until the late 1910s, when they moved into an apartment building nearby at 328 Union Street.
The last tenant of this house appears to have been Morgan G. Day, who coincidentally shared the same last name as its first resident, although he and Benjamin Day were not directly related. Morgan Day was the assistant agent for the Indian Orchard Company, and he lived here with his wife Ruth, their young son, and a maid. They appear here in city directories until at least 1927, although they moved out by 1929. Like the Saffords, though, they remained in the neighborhood, living in a home at 41 Mulberry Street.
The first photo was taken about ten years after the Day family moved out, and the house was evidently vacant for this entire time. By this point, its neighbor at 100 School Street was also vacant, and they would remain empty for nearly 10 more years before they were both demolished in the spring of 1946. Both house lots are now owned by the city, and they serve as a parking area for the Milton Bradley School, which is visible in the distance of the 2018 photo.