The Grand Staircase, seen from the Great Hall at the Metropolitan Museum of Art in New York, around 1902-1910. Image courtesy of the Library of Congress, Detroit Publishing Company Collection.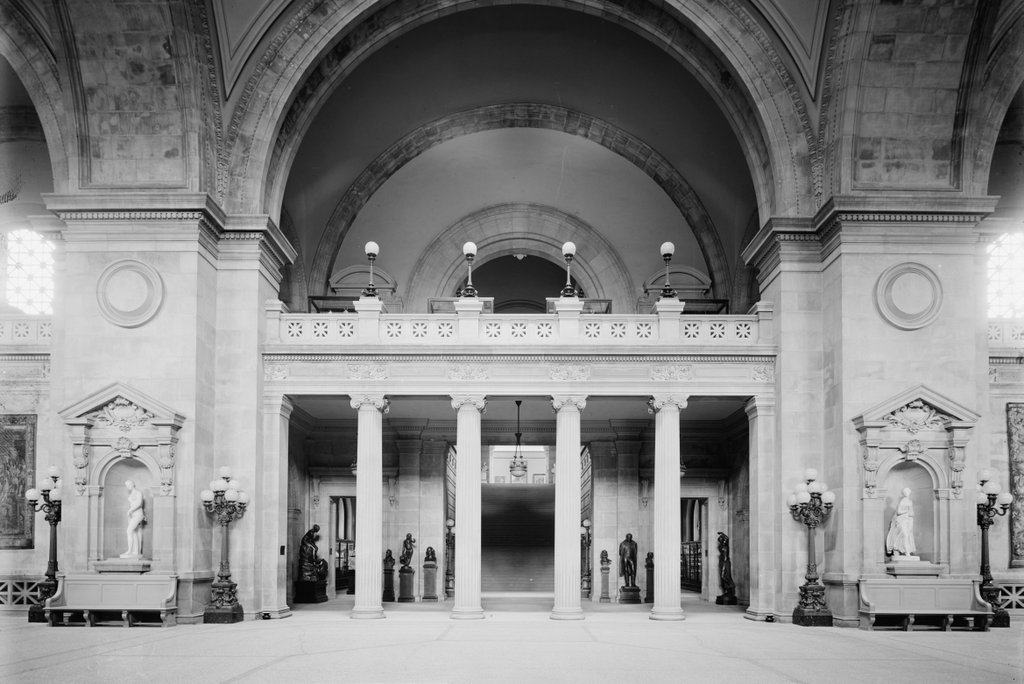 The scene in 2019: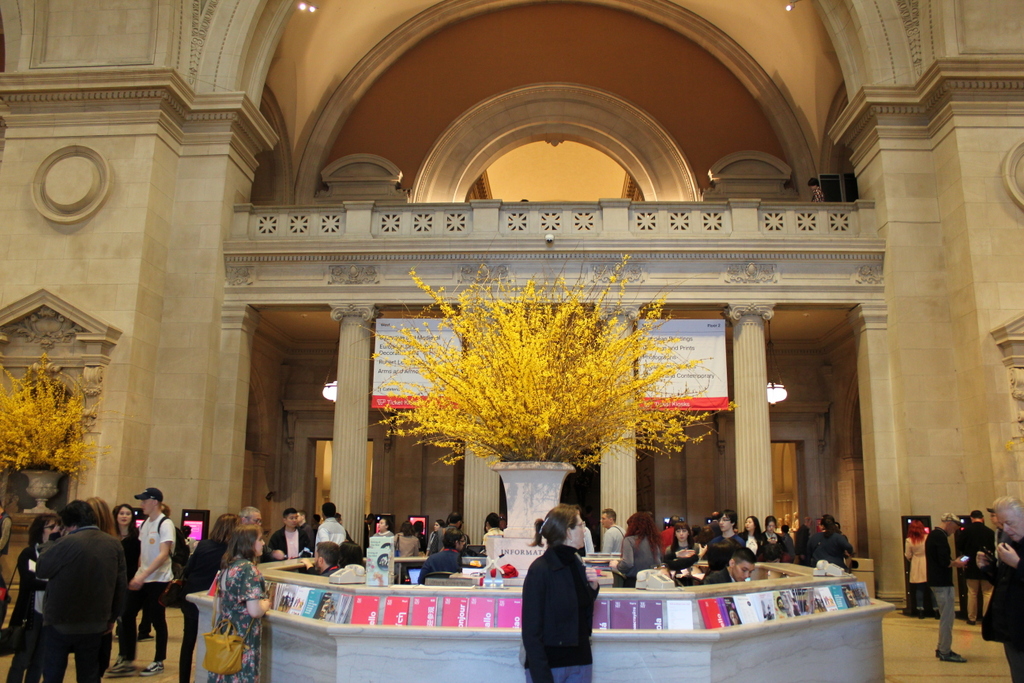 These two photos show the view in the Great Hall of the Metropolitan Museum of Art, facing west from just inside the main entrance. In the center of the scene, just beyond the columns, is the Grand Staircase. Both the Great Hall and the staircase were completed in 1902, as part of an expansion that was designed by noted architect Richard Morris Hunt. Prior to this, the museum was much smaller and set back from Fifth Avenue in Central Park. However, Hunt's addition extended the museum eastward all the way to the street, in the process creating a Beaux-Arts masterpiece that ranks among New York's most important architectural works of the early 20th century.
Upon completion, the museum used the Great Hall as a sculpture gallery, with a mix of ancient and modern statues on display here. There were no statues here in the central part of the room, as shown here, but there were a few in the niches in the walls, along with others along the walls of the vestibule between the Great Hall and the Grand Staircase. Some of the identifiable works here in this scene include California (1858) by Hiram Powers, located in the niche on the left side; Aqua Viva (1884) by Frank Edwin Elwell, between the first and second columns from the left; and just to the right of it a bust of Pierre Jean de Béranger (1834) by Pierre Jean David d'Angers. There is also a statue of Napoleon between the third and fourth columns, although the artist's name is not legible from this distance.
Today, more than a century after the first photo was taken, the statues that were once displayed here in the Great Hall have since been relocated to other parts of the museum. Even the statues in the niches are gone, having been replaced by floral arrangements. The building is now substantially larger than it was in the early 20th century, but overall the Great Hall and the Grand Staircase look much the same as they did when they were completed. Aside from the lack of statuary, the only significant difference between these two photos is the information desk, which is now situated here in the center of the Great Hall, directly in front of the main entrance.