The Meetinghouse at Hancock Shaker Village in Hancock, Massachusetts, in June 1962. Image courtesy of the Library of Congress, Historic American Buildings Survey Collection.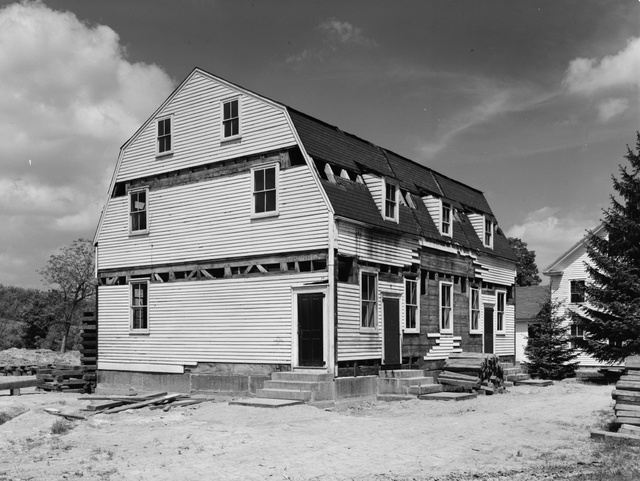 The building in 2023: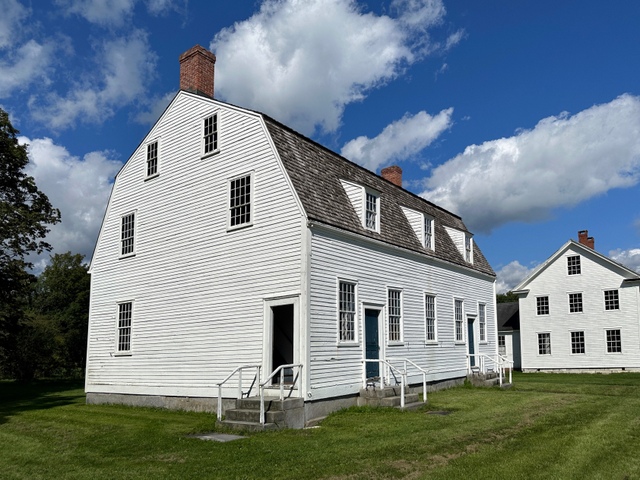 This meetinghouse is part of Hancock Shaker Village, an open-air museum on the site of a former Shaker community. The Shakers first moved to this area in the 1780s and formally established the community here in 1790. It remained active until 1960, when it finally closed amid declining members, and it was subsequently preserved as a museum.
Most of the buildings here are original to this place, but the meetinghouse is one of the few exceptions. It was built in 1793 for a similar Shaker community in Shirley, Massachusetts, but it was moved to Hancock in 1962. The first photo shows the building soon after its move, when it was still in the process of being reassembled on its current site.
Here in Hancock, this meetinghouse from Shirley replaced one that had been demolished in 1938. That meetinghouse had been built in 1786 by Moses Johnson, the same builder who later built the Shirley one. Both buildings had similar designs, although the original Hancock one was later altered with a full second floor, while the Shirley one retained its gambrel roof.
The layout of both buildings included a large room on the ground floor. This is where the Shakers held their worship services, which included their distinctive group dancing. These meetings included both men and women, but they stayed in separate groups during the dancing and did not intermingle. Men and women even entered and exited the meetinghouse through separate doors, which is why there are two doors at the front of the building.
Today, the meetinghouse stands as one of the many historic buildings that have been preserved here at Hancock Shaker Village. Most of the village is on the south side of Route 20, but the meetinghouse is across the street on the north side, where it stands alongside several other buildings, including the Ministry Shop, which is visible in the distance on the right side of both photos.