The view looking east on Boylston Street from just west of Exeter Street, on July 19, 1912. Image courtesy of the City of Boston Archives.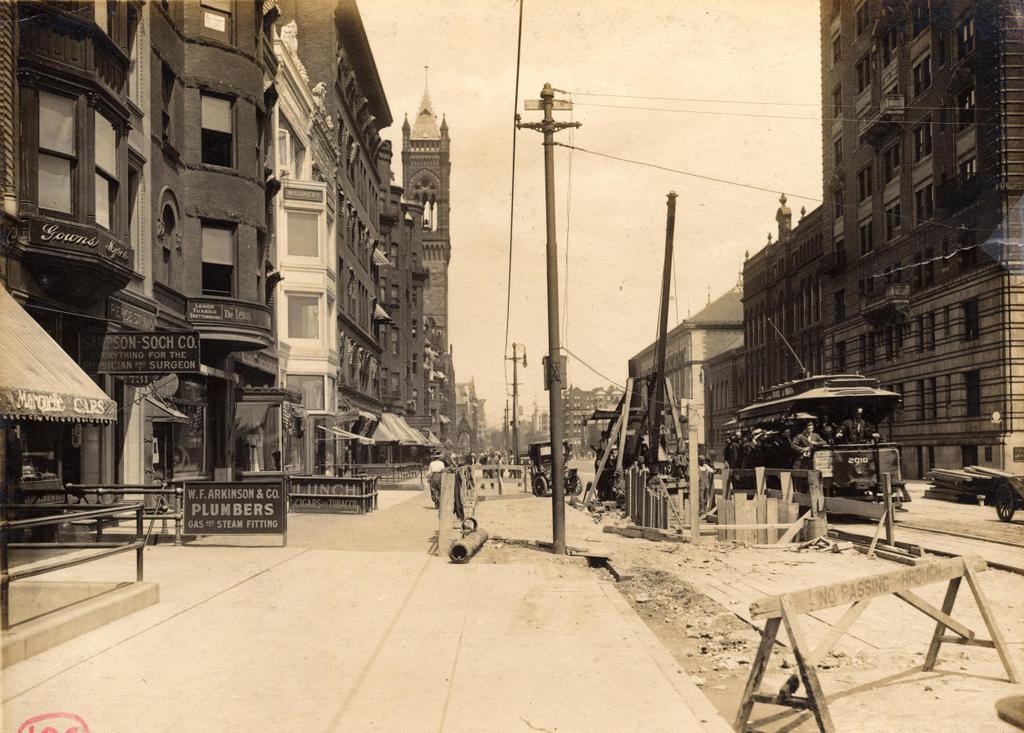 Boylston Street in 2015: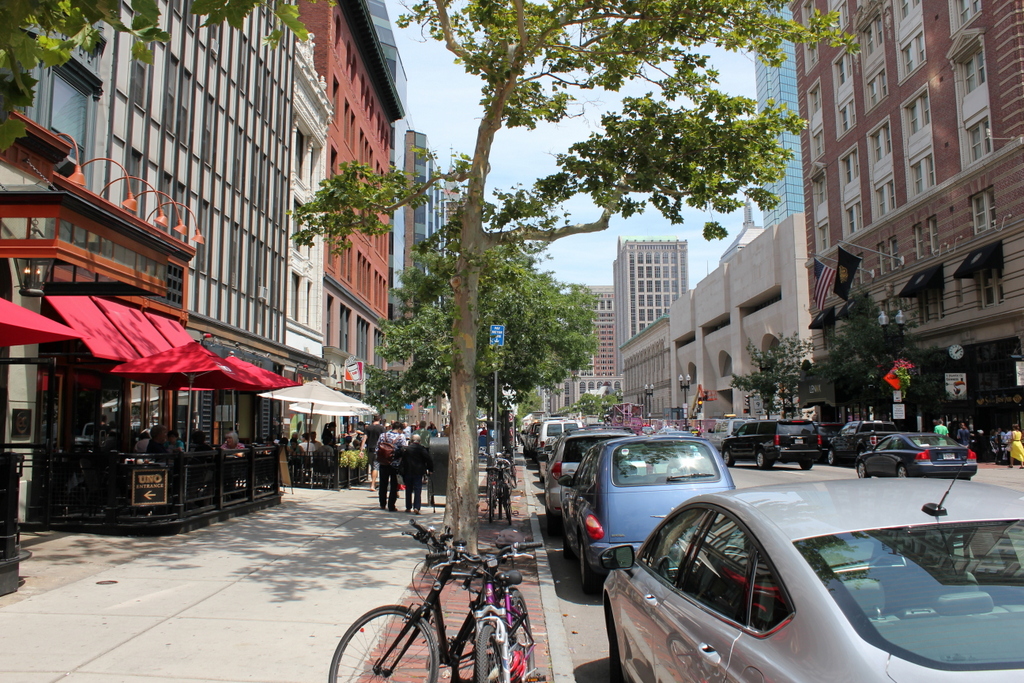 These photos were taken a little over a block away from where the the photos in the previous post were taken, and they show Boylston Street in the area just west of Copley Square.  The first photo was taken during construction of the Boylston Street Subway, which was completed in 1914 and allowed trolleys, such as the one seen in the photo, to travel under Boylston Street along the present-day Green Line.
Most of the older brownstone buildings seen on Boylston Street in the first photo have since been demolished, but many of the newer commercial buildings are still standing today.  These include, on the left side of the street, the small white building, which was built around 1908, and the larger red brick building beyond it.  In the distance is the tower of the New Old South Church, which was rebuilt in 1940 and today is partially hidden in this view.
On the right-hand side of the street, the McKim Building of the Boston Public Library can be seen in the distance; it was completed in 1895, and is still the main branch of the Boston Public Library today.  However, the library has long since outgrown the original building, so today the circulating collections are housed in the much more modern-looking Johnson Building, which was completed in 1972 and can be seen in the right center of the photo.  On the far right of both photos is the Hotel Lenox, which was built around 1901 and is still a hotel today, with few changes to the building's exterior appearance.
One item of interest from the first photo is the trolley to the right.  It is overflowing with passengers, some of whom appear to be hanging on to the outside of the car.  There is a poster on the front of the car that reads "Baseball To-day, American League," so these passengers were probably heading to Fenway Park, which had opened just a few months earlier.  On this particular day, the Red Sox were playing a doubleheader against the White Sox; Boston would end up winning both games, and later in the season they defeated the New York Giants in the World Series to win the team's second championship title.  Over a century later, many Red Sox fans still take this route to Fenway Park, although today the trolleys run under the street in the tunnel that was being built in the first photo.