The East Granby Congregational Church, at the corner of North Main Street and Rainbow Road, around 1930. Image from Sketch of the Congregational Society and Church of East Granby, Conn. (1930).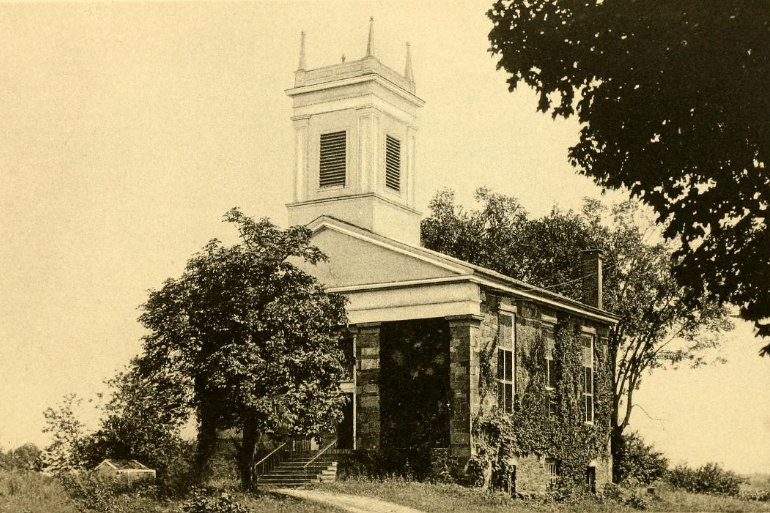 The church in 2017: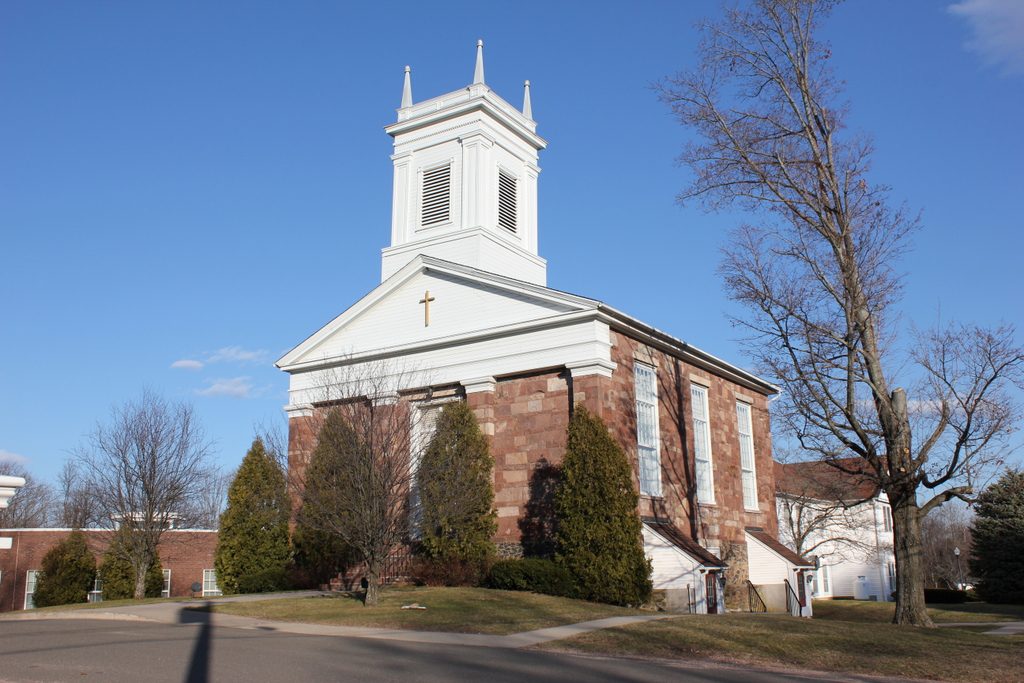 Early 19th century stone churches are rare in the Connecticut River Valley, where most meetinghouses were built of either wood or brick. As a result, this granite church in East Granby stands out in contrast to the archetypal white, wood-frame churches of small-town New England. It was completed in 1831, and was one of many churches designed by Northampton, Massachusetts architect Isaac Damon, whose most prominent existing work is probably Springfield's Old First Church. However, the East Granby church is very different from most of his other churches, which were almost invariably wood, with a columned portico in the front and a tall spire above it.
At the time of its completion, the church was actually located in Granby. The present-day towns of Granby and East Granby had been part of Simsbury in the colonial era, but in 1786 the two northern parishes were formed into the town of Granby. The eastern parish, originally known as Turkey Hills, subsequently split off from Granby in 1858 to form East Granby, with this area here as the town center.
The first photograph was taken around the time of the building's 100th anniversary. At the time, East Granby's population was just about 1,000 people, not much higher than when the town had been incorporated over 70 years earlier. However, in the nearly 90 years since then, the town has undergone significant growth as a suburb of Hartford, and now has over 5,000 residents. Part of Bradley International Airport is also located in the town, just over a mile east of the church.
Despite all of these changes, though, the church is still standing, and remains in active use. There have been several large additions over the years, which are partially visible behind and to the left of it, but Isaac Damon's original section is largely unaltered. It is a prominent landmark in the center of town, and is part of the East Granby Historic District on the National Register of Historic Places.