The house at 259 Longhill Street in Springfield, around 1938-1939. Image courtesy of the Springfield Preservation Trust.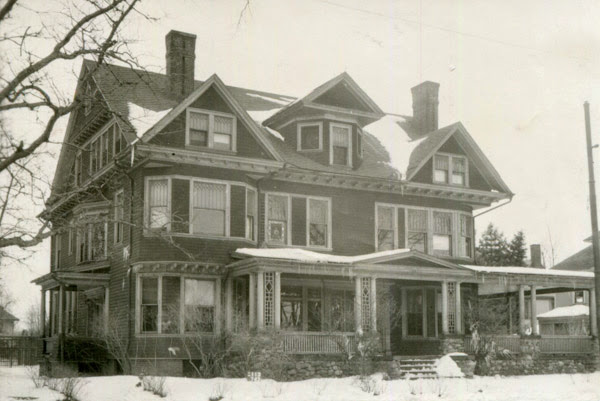 The scene in 2017: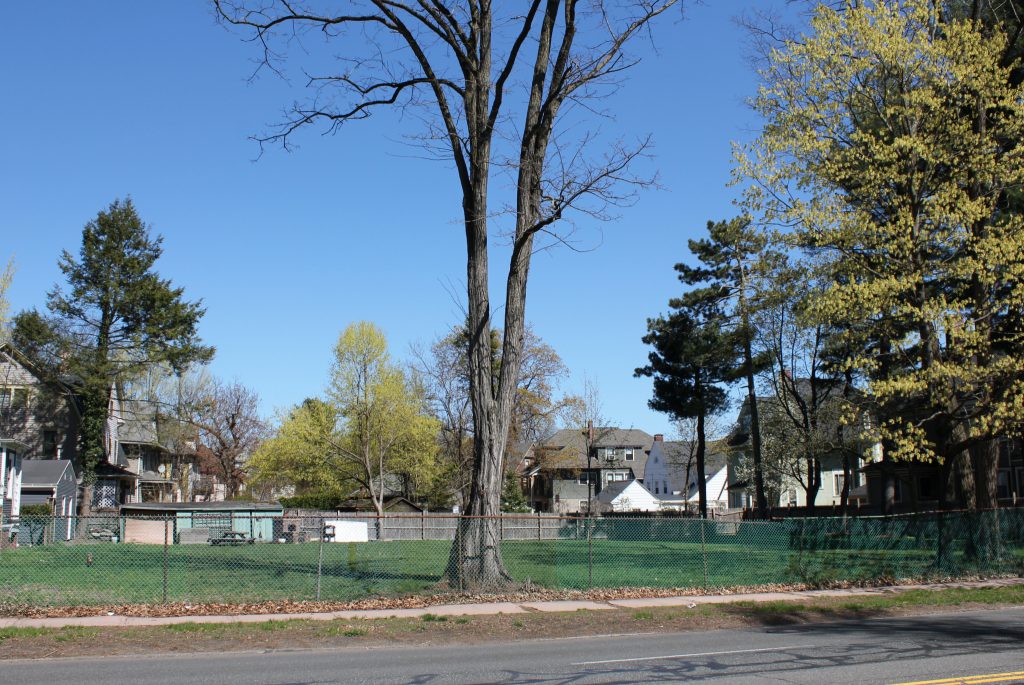 This massive Colonial Revival-style home was one of many mansions built along Longhill Street at the turn of the 20th century. It was probably completed around 1906, when the address first appears in the city directory, and was originally owned by Silas L. Kenyon and his wife Ella. They were in their mid-50s when they moved into this house, and they lived here with several of their adult children, including their daughters Estella and Ruth. However, Ella died only a few years later in 1907, and in 1908 Silas married his second wife, Grace M. Pierce.
Silas Kenyon was the treasurer and manager of Fiberloid, a cellulose manufacturing company that had been founded in Newburyport in the late 1800s. This early type of plastic was used to manufacture a wide variety of consumer products, ranging from shirt collars to dolls' heads to piano keys. Unfortunately it was also highly flammable, and the Newburyport factory was heavily damaged by a fire in 1904. The following year, the company moved to Springfield, where Kenyon and the other officers built a new facility in Indian Orchard, along the banks of the Chicopee River.
The Kenyon family moved to Springfield around the same time as Fiberloid, and Silas lived here in this house for the rest of his life, until his death in 1917. His company would go on to outlive him, and his son-in-law, Howard R. Bemis, would later succeed him as treasurer of Fiberloid. In the 1930s, the company was acquired by Monsanto, which operated the Indian Orchard facility until 1997. After several more ownership changes, the site is still used to manufacture plastics, although it is drastically different from when Fiberloid moved there over a century ago.
In the meantime, Kenyon's house was sold shortly after his death, and by 1918 it was owned by Harold A. Ley, who lived here with his wife Anne and their four children. Harold was the president of Fred T. Ley & Co., a Springfield-based construction firm that he and his brother Fred had established in 1897. Early on, the company had primarily built trolley lines in and around western Massachusetts, but by the early 20th century the company had become one of the area's leading building contractors, constructing prominent buildings in Springfield such as the Hotel Kimball, the old YMCA building on Chestnut Street, and the Masonic Temple on State Street.
By the time Harold moved into this house, the company had moved well beyond the Springfield area, with projects in Boston, New York City, and beyond. Among these was Camp Devens in Ayer and Shirley, Massachusetts, as well as the Boston Arena, an indoor ice rink that would go on to become the first home of both the Boston Bruins and the Boston Celtics. By the mid-1910s, they were constructing luxury apartment buildings and other buildings in New York City, and by the end of the decade they were also involved in projects in Lima, Peru.
In 1919, the company moved its headquarters from Springfield to New York City, and went on to build a number of buildings there. Harold left the company two years later, though, in order to devote his time to the Life Extension Institute, a philanthropic organization that he had helped to found in 1913. As a result, he was not involved later in the decade when his brother's firm took on its single most important construction project, the Chrysler Building, which was the tallest building in the world when it was completed in 1930.
Despite his growing ties to New York, Harold was listed in city directories as living here in this house until at least 1924. However, he subsequently moved to New York, and the 1930 census shows him and his family living in Yonkers. By 1927, this house was the home of Louis and Nell Bauer, who either owned or rented it until around 1929, when their own house was completed nearby at 386 Longhill Street.
The Bauer's appear to have been the last residents of this house, because it is listed as being vacant in the 1929 city directory, as well as those of subsequent years. When the first photo was taken about a decade later, the house was still vacant, and it remained unoccupied for a few more years, until it was finally demolished in 1942. Nearly 80 years since then, most of the historic mansions on Longhill Street are still standing, but this house is one of the few exceptions. The property was never redeveloped, and today it remains a vacant lot within the Forest Park Heights Historic District.