The Raleigh Hotel, at the corner of 12th Street NW and Pennsylvania Avenue in Washington, around 1900-1910. Image courtesy of the Library of Congress, Detroit Publishing Company Collection.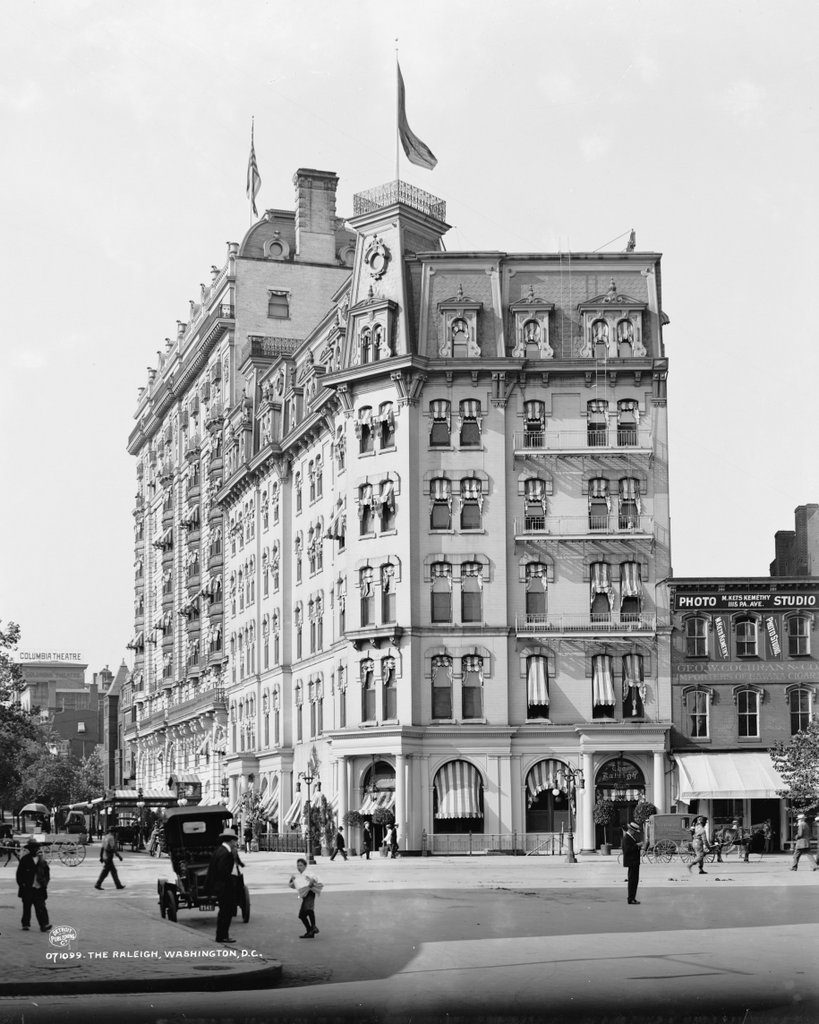 The new Raleigh Hotel, around 1911-1925. Image courtesy of the Library of Congress, Detroit Publishing Company Collection.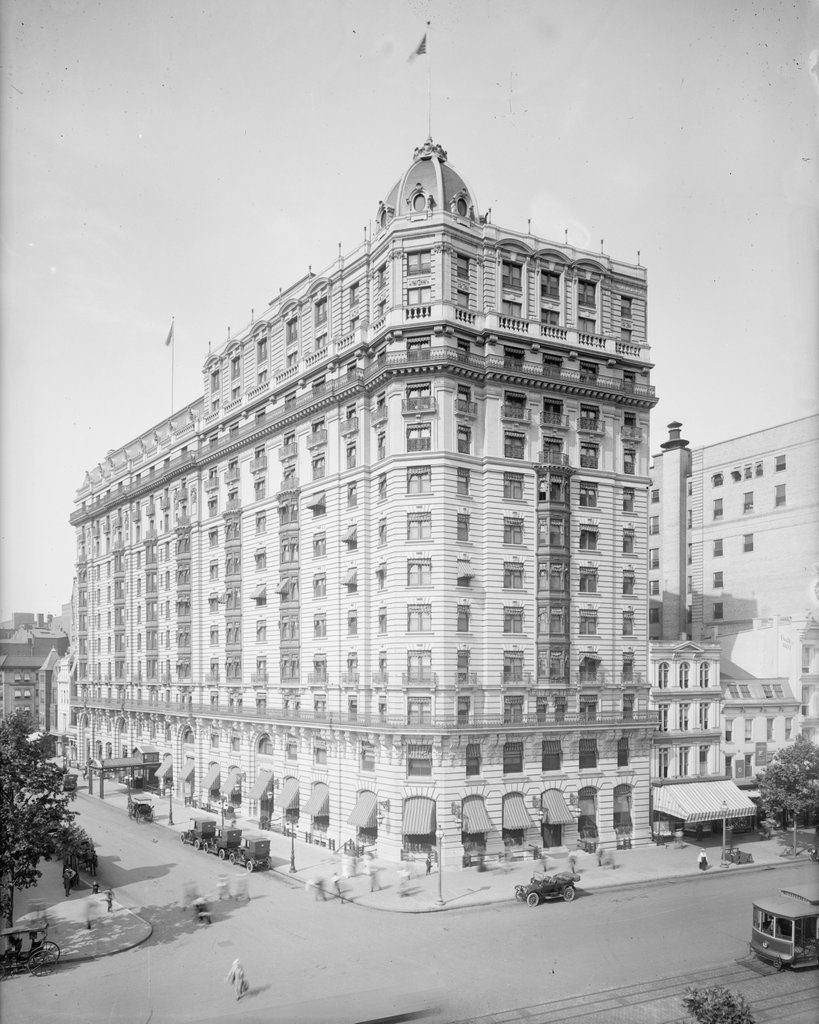 The scene in 2018: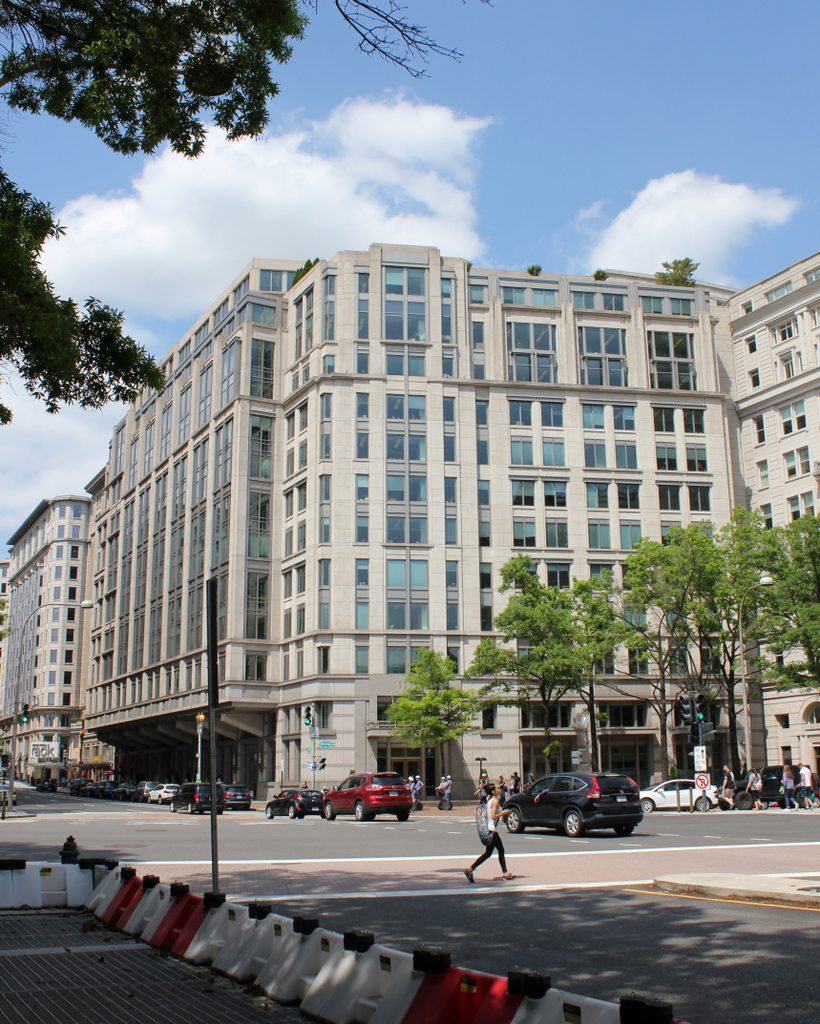 The Second Empire-style building in the first photo was constructed in 1875-1876 as the Shepherd Centennial Building, an office building whose early tenants included the U.S. Pension Bureau and the Palais Royal department store. However, in 1893-1894 the building was renovated and converted into the Raleigh Hotel, which would become one of the finest hotels in Washington at the turn of the 20th century.
The original building was expanded in 1898 with a large addition to the rear, along 12th Street. As shown in the first photo, the 12-story addition dwarfed the older part of the hotel, and it featured a Beaux-Arts style exterior that was designed by noted architect Henry J. Hardenbergh. One of the leading hotel architects of the era, Hardenbergh's other works included the Waldorf-Astoria Hotel and the Plaza Hotel in New York, the Copley Plaza Hotel in Boston, and the nearby Willard Hotel here in Washington.
Sometime around 1910, the hotel owners acquired the small three-story commercial block on the right side of the hotel, which bore advertisements for a photo studio and cigar shop in the first photo. This allowed the hotel to further expand onto this lot, and by 1911 the original section of the hotel was demolished and replaced by a new 13-story building, as shown in the second photo. Also designed by Hardenbergh, its architecture matched the 1898 addition, although it stood several stories higher. Prior to 1910, buildings on Pennsylvania Avenue had been limited to 130 feet in height, but Congress raised the height limit to 160 feet, in order to accommodate the construction of the new Raleigh Hotel.
The Raleigh Hotel would continue to be one of Washington's finest hotels throughout the first half of the 20th century. It was starting to show its age by the 1930s, when newer establishments such as the Mayflower Hotel began to eclipse it, but the Raleigh underwent a major renovation in the middle of the decade. It would remain competitive into the postwar era, but it entered a decline in the 1950s. During this time, aging downtown hotels across the country were struggling, and the Raleigh was no exception here in Washington. It finally closed in 1963, its furnishings were sold off, and it was demolished a year later. Its replacement, a 14-story office building at 1111 Pennsylvania Avenue, was completed in 1968, and it still stands on the site today.