The house at the corner of Mary and Clarke Streets in Newport, around 1903. Image courtesy of the Providence Public Library.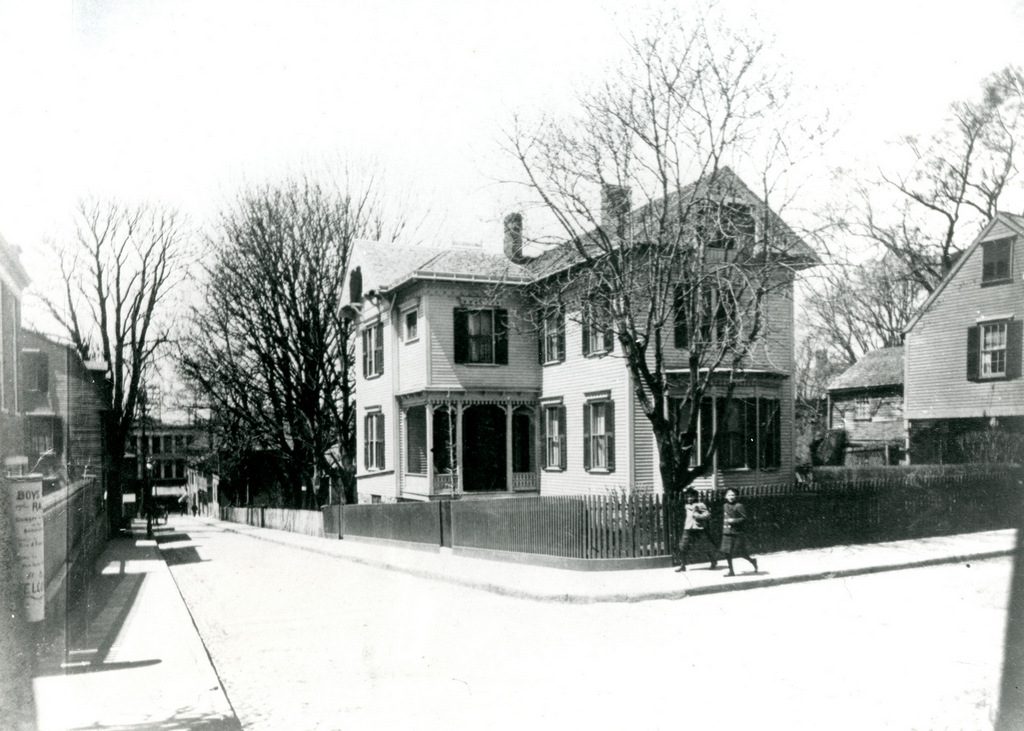 The house in 2017: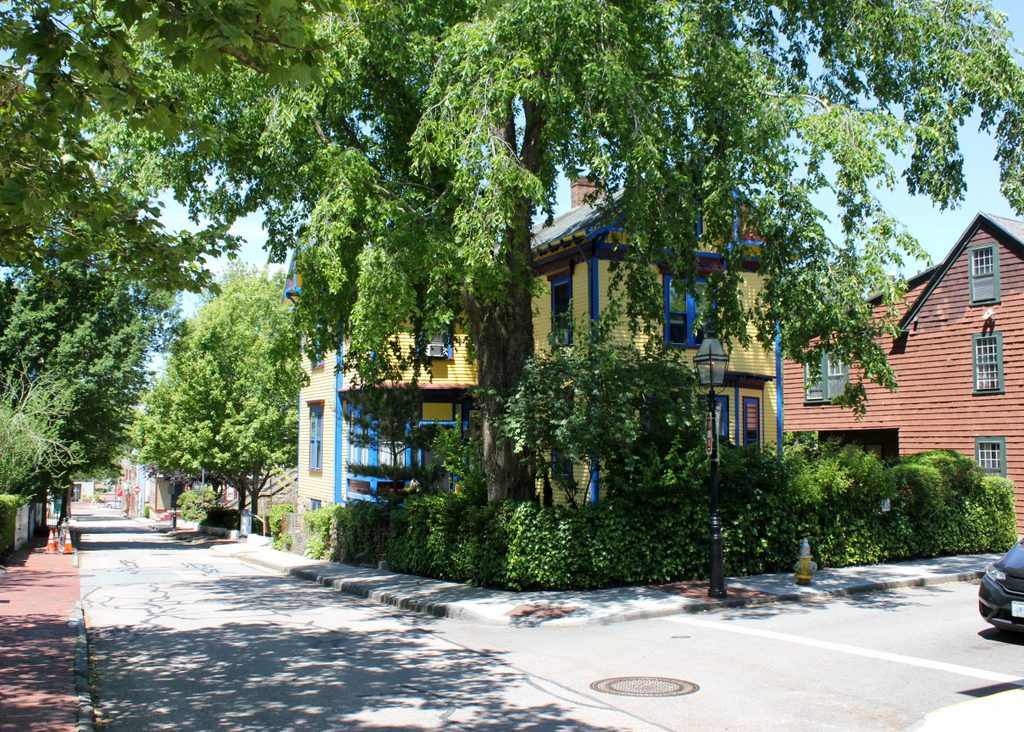 This house was built sometime around the late 1870s or early 1880s, and was originally owned by Anna Pell, although she does not appear to have personally lived here. Born in 1817 in Cooperstown, New York, Anna was the daughter of George Clarke, a prominent landowner who owned Hyde Hall, a mansion on Lake Otsego that was said to have been the largest private home in the country at the time. She and her husband, Duncan C. Pell, subsequently lived here in Newport, in a house on the opposite side of Mary Street from here. Duncan served as lieutenant governor of Rhode Island from 1865 to 1866, and the 1870 census lists him as a retired merchant, with a net worth of nearly $400,000, or nearly $8 million today.
Duncan Pell died in 1874, and within the next decade Anna built this house across the street from their home. She appears to have continued to live in her husband's house across the street until her death in 1899, but during this time she rented this newer house to Sidney Woollett, who was living here with his wife Julia by around 1885. Woollett was an elocutionist who was notable for his public poetry recitations, specializing in Shakespeare, Longfellow, and Poe, and he appeared to have had some sort of personal connection to Anna Pell, because in 1884 he named his youngest daughter Anna Pell Woollett. Along with Anna, he and Julia had three other children, and the family lived here until the end of the 19th century, around the same time that Anna Pell died.
By the time the first photo was taken a few years later, the house was owned by Patrick J. Boyle, the longtime mayor of Newport. He was the child of Irish immigrants, and was born in Newport in 1860. As a teenager, Boyle had begun working for the Newport Gas Light Company, and served for many years as the company's bookkeeper. In 1895, he was elected to his first term as mayor, and over the next few decades he was re-elected to sixteen more terms in office, a remarkable record for a Democrat in a largely Republican city. His first wife, Anne, died sometime before he moved into this house, and in the early 1900s he remarried to his second wife, Alice Lee. He had one son, Patrick, from his first marriage, and he and Alice had two daughters: Alice and Barbara.
Patrick Boyle was still serving as mayor, and was still living in this house, when he died in 1923. The rest of his family continued to live here for several more years, but around 1928 Alice moved to New York City. Around 90 years later, the house remains well-preserved, although partially hidden by trees and other vegetation from this angle. Along with the rest of the historic 17th, 18th, and 19th century buildings in the center of Newport, the house is now part of the Newport Historic District, which was designated as a National Historic Landmark in 1968.