The house at 96 Sumner Avenue in Springfield, around 1938-1939. Image courtesy of the Springfield Preservation Trust.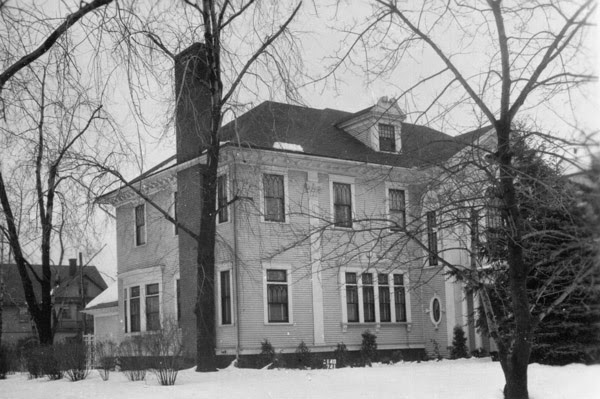 The house in 2017: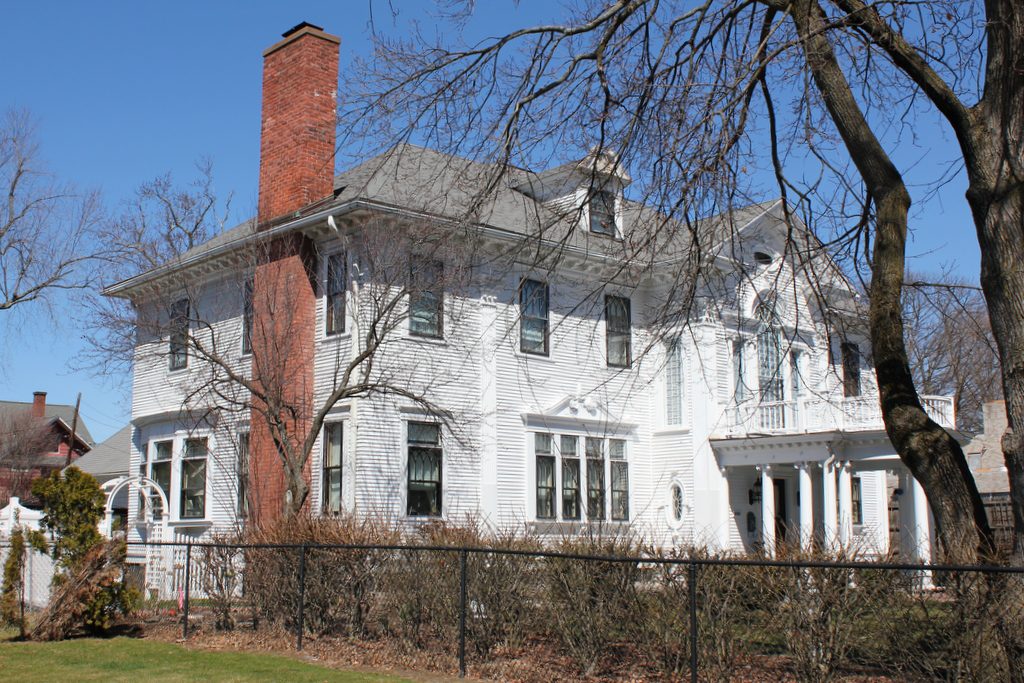 This house was built in 1896 for Henry E. Marsh, the owner of Cooley's Hotel in Springfield. The hotel itself was nearly as old as Marsh, having been established in 1849 by Justin M. Cooley. Marsh, who had been born in Hatfield in 1846, moved to Springfield when he was 20 and became an office boy for the hotel. From there, he worked his way up in the hotel, and eventually became a partner in the business in 1881.
Cooley retired in 1892, and Marsh took over ownership of the hotel. He subsequently enlarged it, making it one of the city's premier hotels. It enjoyed a prominent location next to the railroad station, just north of the arch over Main Street, and by 1905 it boasted 75 rooms, which could accommodate 300 guests. The hotel also featured a restaurant, Turkish baths, and even a Western Union telegraph office.
Henry Marsh lived in this house with his wife Mary and their two sons, Phillip and Harry. Their oldest son, Edward, had died of Bright's disease at the age of 23, a few years before this house was built. Phillip also died relatively young, at the age of 34, in 1913, with his death certificate listing diabetes as the cause of death. By 1914, Henry had retired from the hotel business, and two years later he sold this house to real estate dealer William Lay.
Both Henry and Mary died in the 1920s, and in 1929 his former hotel became the Hotel Charles, which stood at the corner of Main Street and Frank B. Murray Street until its demolition in the 1990s. However, his former mansion on Sumner Avenue has fared better over the years. By the 1930 census, it was owned by Edward L. Stoughton, the vice president and future president of Wico Electric Company. He was 39 at the time, divorced, and lived here with his two daughters, Dorothy and Marylin, who were 18 and 6 years old, respectively.
More than 120 years after the Marsh family moved into this house, it remains well-preserved. in its original condition. Many of the mansions along this section of Sumner Avenue were later demolished to build apartment blocks or other buildings, but this house still stands as a good example of late 19th century Colonial Revival architecture. Along with the rest of the neighborhood, the house is now part of the Forest Park Heights Historic District on the National Register of Historic Places.