The house at 90 Buckingham Street in Springfield, around 1938-1939. Image courtesy of the Springfield Preservation Trust.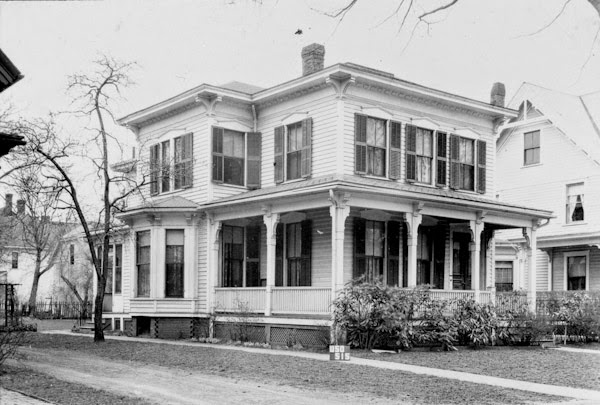 The house in 2017: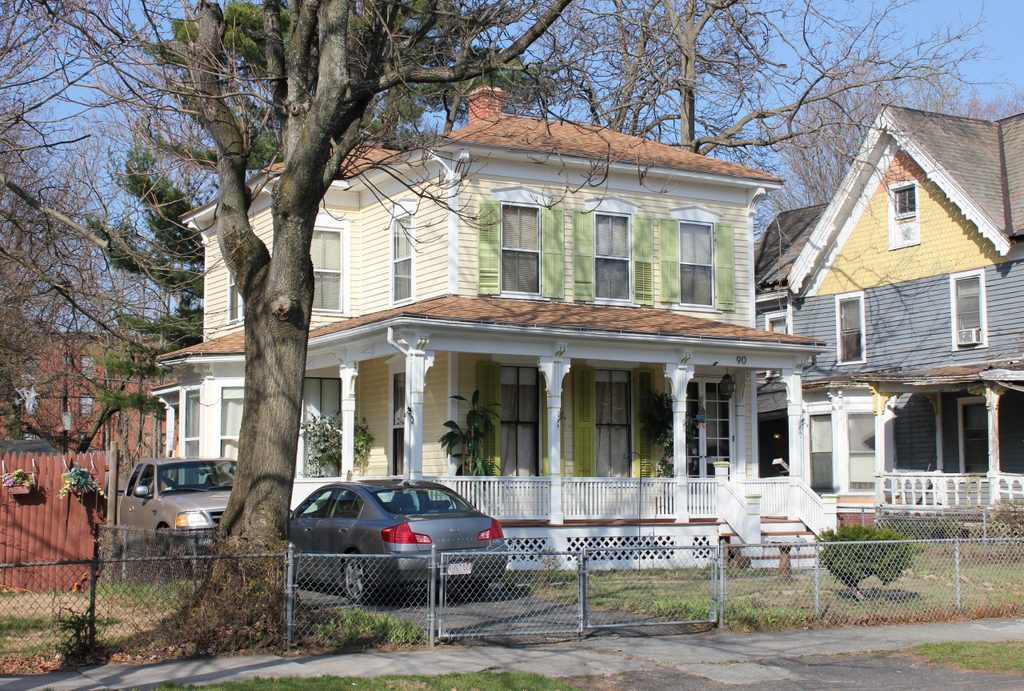 The vast majority of the houses in the McKnight neighborhood are Queen Anne-style homes from the 1880s and early 1890s. However, this house is one of a small number of Italianate-style homes, which date back to the first decade of the area's development. Home sales were generally slow in the 1870s, in part because of the economic recession in the aftermath of the Panic of 1873, but this house was built in 1879 for William P. Derby, who lived here with his wife Frances, their daughters Mary and Fanny, and their son Winfred.
William Derby was a veteran of the Civil War, serving as a private in the 27th Massachusetts Regiment, and in 1883 he published a memoir, entitled Bearing Arms in the Twenty-Seventh Massachusetts Regiment of Volunteer Infantry. He was also involved in the leadership of the Grand Army of the Republic, including serving as the organization's Department Commander of Massachusetts. When William first moved into this house, he was superintendent of the Springfield Weaving Company, but he later started an advertising firm, W. P. Derby & Co., with offices in the Kinsman Block on Main Street.
During the 1900 census, William was living here with Frances and Winfred, along with Frances's 89-year-old mother Theresa Lyman. William died a year later, but Frances continued living here with Winfred until her own death in 1915. During this time, Winfred worked as a cashier, first at the Massasoit House and then later at the bar in the Hotel Kimball. After his mother's death, he moved out of this house by 1917, and lived in a boarding house nearby on Clarendon Street.
Following Frances's death, her house was sold to Fred E. Steele, who moved in with his wife Jennie and their three children. He was an insurance agent for the Springfield Fire and Marine Insurance Company, and over the years he worked his way up the corporate ladder, serving as the company's secretary by the early 1930s and vice president by the early 1950s. Jennie died in 1934, but Fred was still living here by the time the first photo was taken later in the decade, along with his sons Theodore and Kenneth.
Fred sold the property in 1961, a few years before he died, and since then the house has remained well-preserved. It is an excellent surviving example of the earlier style of homes in the neighborhood, with hardly any noticeable changes from the first photo. Like the rest of the homes in the area, it is now part of the McKnight Historic District, which was added to the National Register of Historic Places in 1976.