The house at 155 Elm Street in New Haven, around 1935-1942. Image courtesy of the Connecticut State Library, WPA Architectural Survey Collection.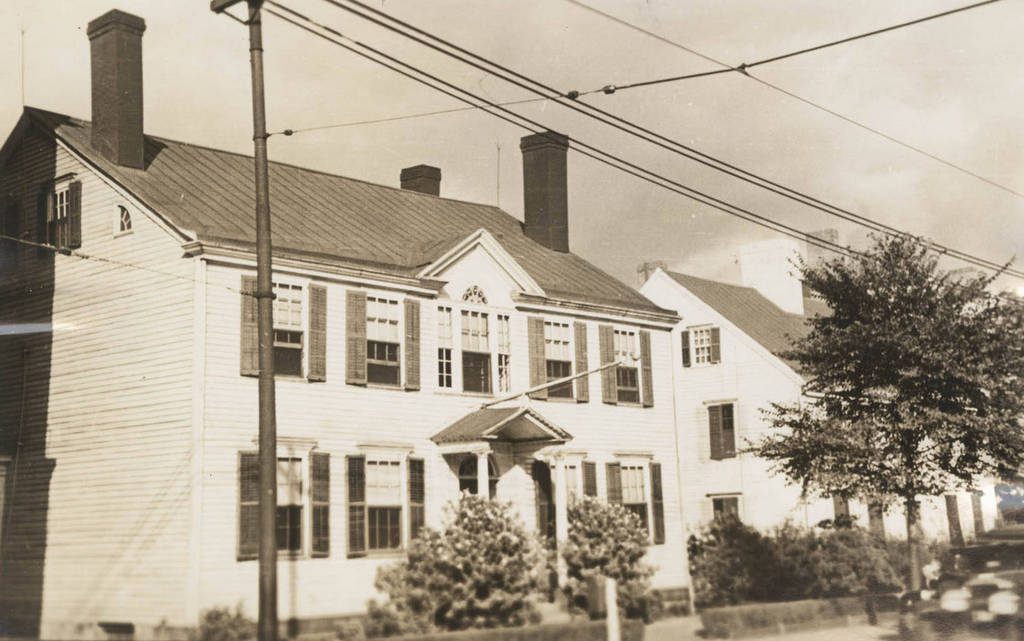 The scene in 2018: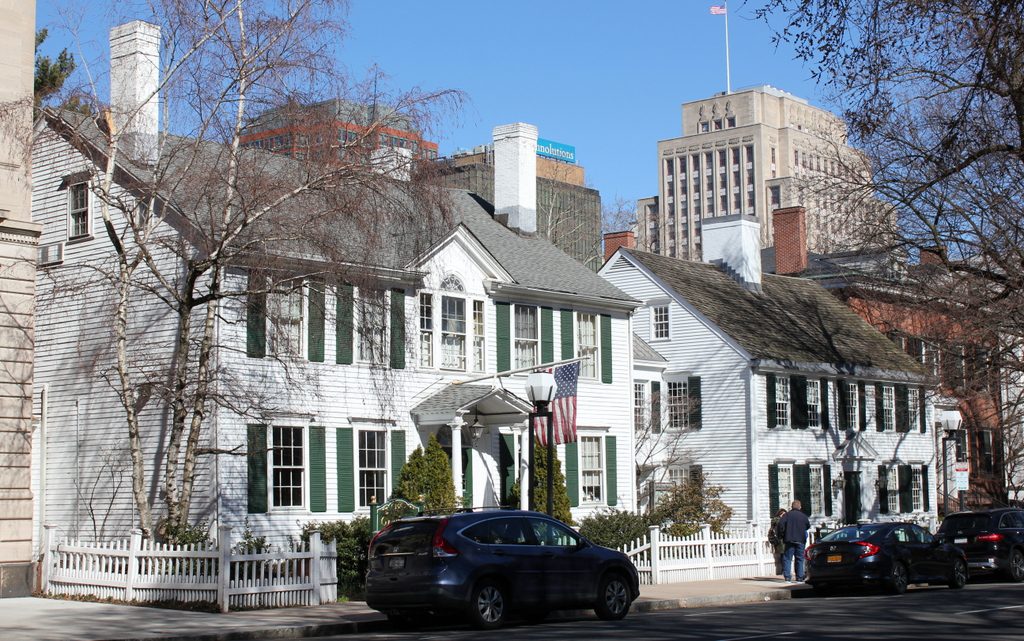 This section of Elm Street features a row of three historic houses that date back to the late 18th and early 19th centuries. Furthest in the distance, at the corner of Temple Street, is the brick Ralph Ingersoll House, which was built in 1829. To the left of it is the 1767 John Pierpont House, which is one of the oldest houses in New Haven, and closest to the foreground is the 1799 Jonathan Mix House. Together, these three homes are among the few survivors of Quality Row, a term that was once given to the many fine mansions that lined Elm Street along the northern end of the New Haven Green.
Jonathan Mix, the original owner of the house in the foreground, was a New Haven native who was born in 1753. He served in the American Revolution, and spent time as a prisoner of war on the notorious British prison ship Jersey, before returning to New Haven at the end of the war. He and his wife Anna raised a large family, with ten children who were born between 1778 and 1797, at least one of whom died young. Anna died in 1799 at the age of 40, and the following year Jonathan married his second wife, Elizabeth, with whom he had one child.
This house was evidently built around the time of his second marriage, but it does not seem clear how long Jonathan Mix actually lived here. One Mix family genealogy from 1886 indicates that he "lived in the house on Elm street . . . now occupied by Dr. Carmalt" [175 Elm Street], and that he "built the house now owned by Eli W. Blake" [here at 155 Elm Street]. This probably suggests that Mix lived at present-day 175 Elm Street until around 1799, and then moved into this house upon its completion. However, he would not remain in New Haven for much longer, because in 1808 he relocated to New York, where he died in 1817.
As mentioned in the description from the Mix genealogy, this house was later owned by Eli Whitney Blake. He was a nephew of inventor Eli Whitney, but Blake was also a noted inventor in his own right, with innovations such as a mortise lock and a stone-crushing machine. The latter was a particularly important contribution to 19th century America, because it enabled the construction of paved roads. Blake also had connections to the Mix family, which may have been how he acquired this house. His older brother, Elihu Blake, married Jonathan Mix's youngest child, Adeline, and one of their children was William Phipps Blake, a prominent geologist who also wrote the 1886 Mix genealogy book.
The 1870 census shows Blake living here with his wife Eliza and their son George. His occupation was listed as "Inventor of the Stone Crusher," but at the time he was also involved with Blake Brothers, a hardware manufacturing company in the New Haven neighborhood of Westville. Among their many products was an early corkscrew, which had been invented by his brother Philos. By this point, Eli was a fairly wealthy man, and the 1870 census values his real estate at $20,000, plus a personal estate of $10,000, for a net worth equivalent to about $600,000 today.
Eliza died in 1876, and Eli continued to live in this house until his death in 1886, at the age of 91. The house was subsequently owned by his daughter Mary, who lived here with her husband George Bushnell, a Congregationalist minister. He died in 1898, but Mary was still here during the 1900 census. She lived until 1916, but in 1901 she sold the property to the Graduate Club, a New Haven social club that had been founded in 1892.
The first photo was taken sometime in the late 1930s or early 1940s, as part of a WPA survey to document historic buildings across Connecticut. Not much has changed since then, and all three of these historic Elm Street homes are still standing. The other two homes are owned by Yale, but the Jonathan Mix House continues to be used as the clubhouse for the Graduate Club, although the organization was renamed the Elm City Club following a 2012 merger with the Quinnipiack Club.